FY 2021 – 2022
The financial year (FY 2021/2022) marks a significant milestone on our journey towards a more sustainable Holland-Bukit Panjang Town Council. Another fulfilling year has passed as we continue to work on both initiatives in keeping our town sustainable and inclusive.
Our Town Council has always prided itself with delivering excellent township governance for our residents. I am pleased to share that we have achieved the top band (Green) for all the indicators graded in the Town Council Management Report, which includes performance in Estate Cleanliness, Estate Maintenance, Lift Performance and S&CC Arrears Management. We are committed towards maintaining these standards, and we thank our staff members, councillors and stakeholders for working alongside in making this possible.
Apart from estate cleanliness and maintaining town's facilities, we recognize that township governance needs to evolve towards more sustainable ways of carrying out our duties to residents and stakeholders. To fulfil our sustainability commitments set in 2017, we have launched our second Sustainability Report with a renewed focus on eight Sustainability Development Goals for our town.
The published report titled, "Sustainable Town, Resilient Community", is an affirmation of our alignment with Singapore's Green Plan 2030, as well as our residents' wishes for our town to adopt more sustainable practices. To date, we have achieved 54 out of 121 targets, and I am pleased to announce that we are on track towards achieving the remaining targets by 2030.
Read More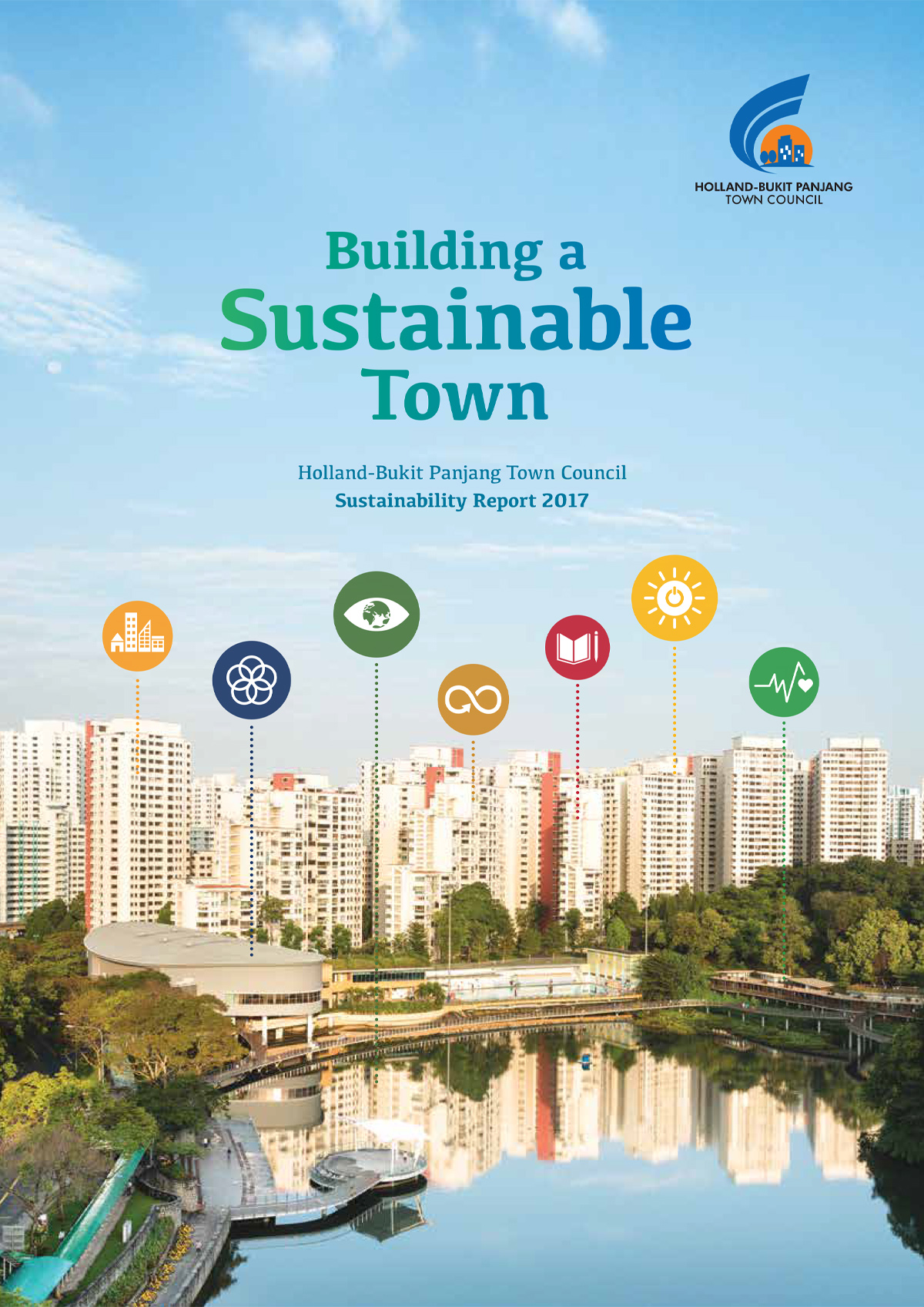 Building a Sustainable Town (2017)
The first Sustainability Report to be published by Holland-Bukit Panjang Town Council, this report aims to communicate our sustainability practices to stakeholders in a transparent and accountable manner. Covering issues related to governance, stakeholder engagement and the environment, this report establishes the sustainability topics relevant to the operations of Holland-Bukit Panjang Town Council.
Through this report, we seek to identify opportunities for improvement in our sustainability management approach as we integrate sustainability into our strategic plans, stakeholder engagement initiatives and operational processes. By working with our partners and stakeholders, we will continuously seek to advance sustainable practices within the Town Council and our community at large.
Read More